You're invited to be a part of INSTRUMENTHEAD — a fine art hardcover book that presents musicians in a way you've never seen before.
Exhibiting my INSTRUMENTHEAD portraits has been a dream come true. I've collaborated with hundreds of artists, capturing the inseparable connection to their instrument and craft. Through this process I have been able to find my voice as an artist. I am often asked if there is a book of my work that is available for purchase. Coming this fall, is a full-color fine art book called INSTRUMENTHEAD.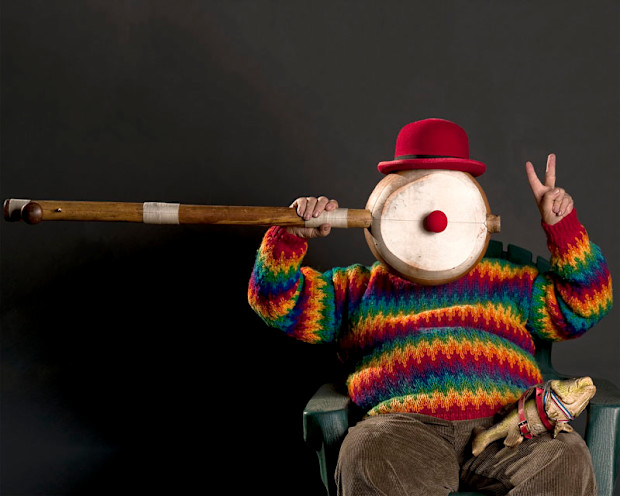 (Wavy Gravy – hippie icon)
Music is My Passion; Photography is My Medium
I began calling people who were known for the instrument they played (as well as for their look and style). I asked, "How are we going to tell your story? How will people know that it is you, without seeing your face? What is it about you that makes you special?" The photo shoots became a collaborative exchange between the musicians and myself.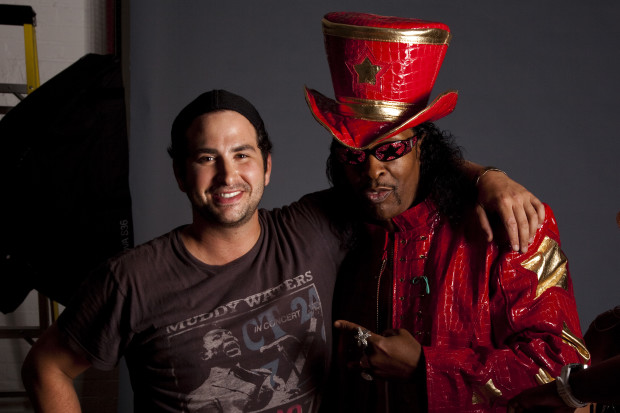 (Michael and Bootsy, Instrumenthead shoot, 2010)
Unsung Sidemen and World Music Represented
Many of the musicians that I have photographed are "sidemen." I have also photographed many people from various countries who play indigenous instruments and wear traditional clothes from their homeland.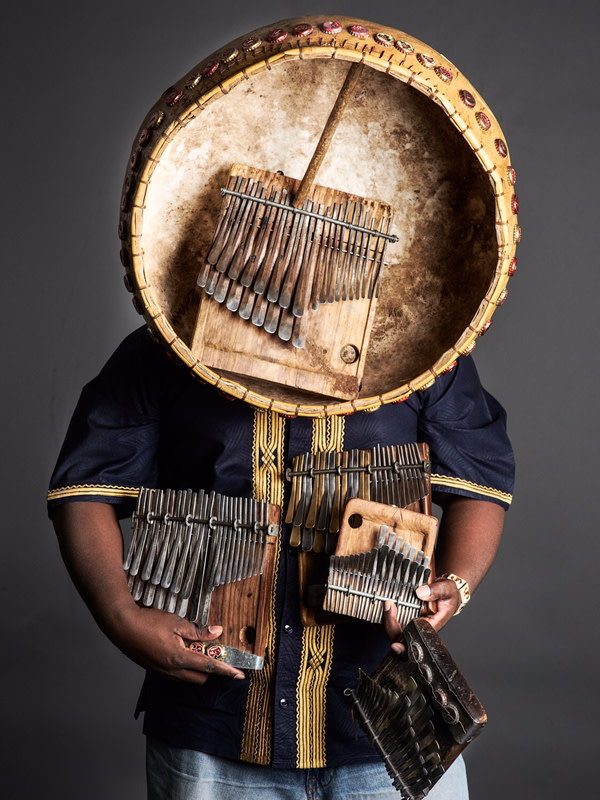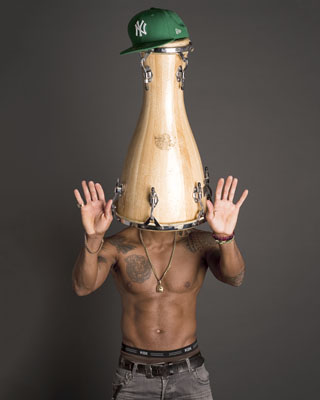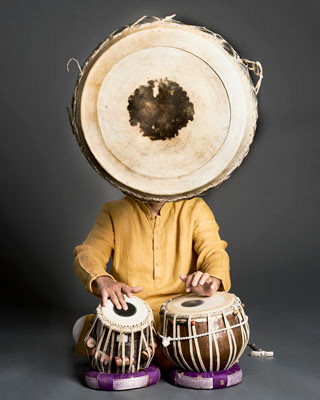 (Pride Chigwedere, Pedrito Martinez, and Zakir Hussain, 2010-2011)
Musicians Photographed
To date, over 400 musicians have been photographed for this project by setting up mobile studios all over, from backyards to music venues.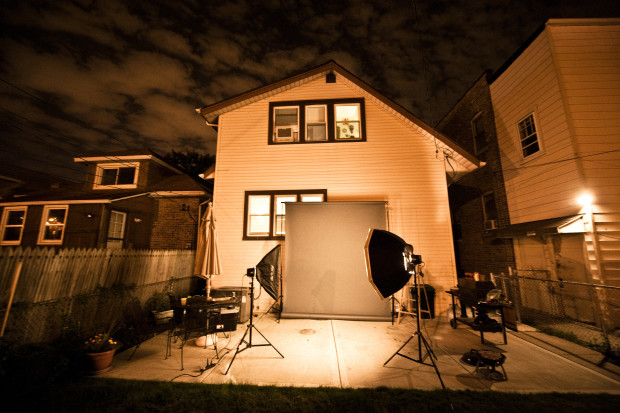 (Pop-up studio, Chicago, 2010)
Portraits for INSTRUMENTHEAD have been taken all over the United States, as well as in Barcelona, Cape Town, and Rotterdam.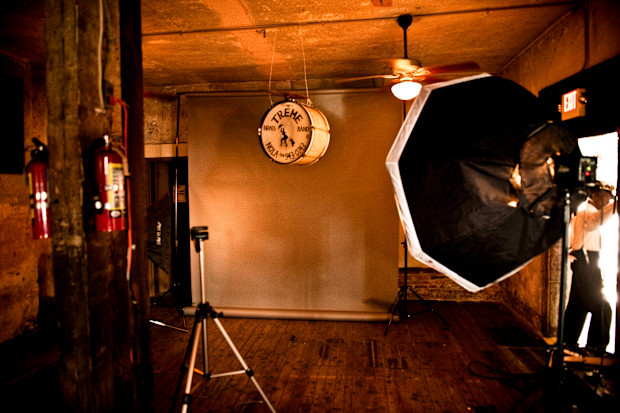 (Pop-up studio, Preservation Hall, New Orleans, 2010)
Just a Few of the Musicians Photographed for INSTRUMENTHEAD (this is just a small sample of the over 400 artists photographed):
Bootsy Collins (James Brown, Parliament Funkadelic, Bootsy's Rubberband)
Johnny Winter (Solo Artist)
Dave Schools (Widespread Panic)
Mickey Hart (Grateful Dead)
Jon Popper (Blues Traveler)
Kenny Olson (Kid Rock)
Derek Trucks (Allman Brother Band, Tedeschi Trucks Band)
Zakir Hussain (Shakti, Masters of Percussion)
Junior Brown (Solo Artist)
John Forte (The Fugees)
Kyle Hollingsworth (String Cheese Incident)
Pepper Keenan (Corrosion of Conformity, Down)
Lenny White (Return to Forever, Miles Davis)
Pedrito Martinez (Solo Artist)
Matt Abts (Gov't Mule)
Mark Guilianan (Beat Music, Brad Meldau)
Peter Keys (Lynard Skynard)
Sam Bush (Solo Artist)
Alto Reed (Bob Seger and The Silver Bullet Band)
Futureman (Bela Fleck and the Flecktones)
Jimmy Johnson and David Hood (The Swampers)
…and so many more! (You can see more musicians at Michael's website.)
INSTRUMENTHEAD Exhibitions
A few years ago, I had the opportunity to showcase my work on a grand scale. With the help of friends and colleagues I was able to transform a 50,000-square foot warehouse into a large-scale sensory experience that was free to the public. It went on for two weeks during Jazz Fest displaying 75 four-foot-tall photographs. Musicians, painters, and aerial artists were performing every day.
Since the New Orleans show, I have created various pop-up exhibits inside the New Orleans Jazz and Heritage Festival, The Lockn' Festival in Virginia, the Piccolo Spoleto Festival in Charleston, the Muscle Shoals Music Association Holiday Party, Oz, a contemporary art center, in Nashville, The Country Music Hall of Fame, The NorthSea Jazz Festival, and The Big Blues Bender in Las Vegas. Once INSTRUMENTHEAD is published, I will have books for sale at future gallery shows, music festivals, and on my website.

(TNT show, Oz Arts Nashville, 2010)
INSTRUMENTHEAD book schedule
The design and production of a fine art book is a long and expensive process. We are aiming to deliver the book to IndieGoGo backers ahead of schedule, and we are projecting OCTOBER 2016 for delivery date.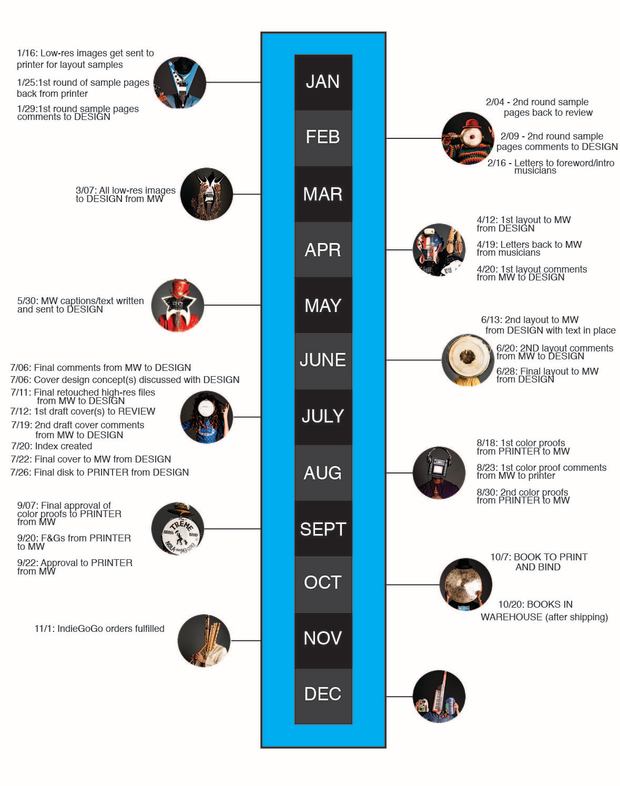 What Will the Book Look Like?
.[Sample Page Design – Not FINAL VERSION]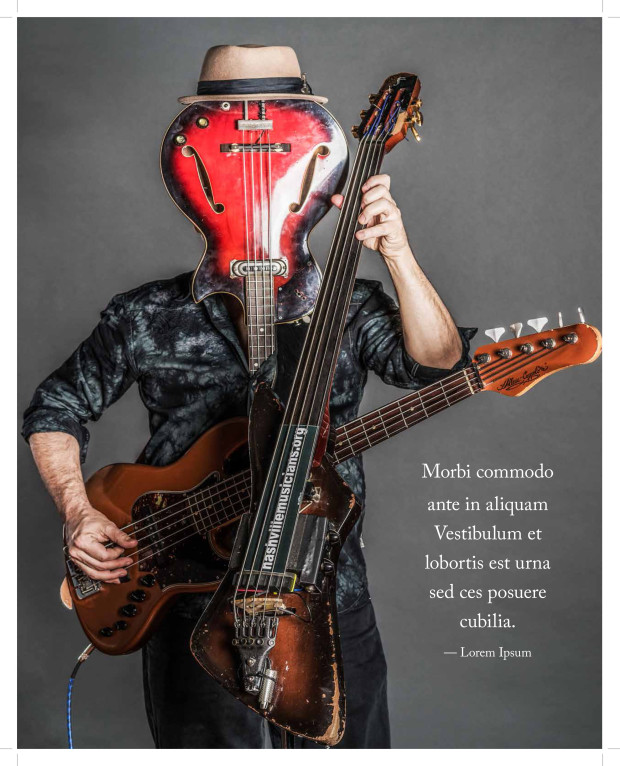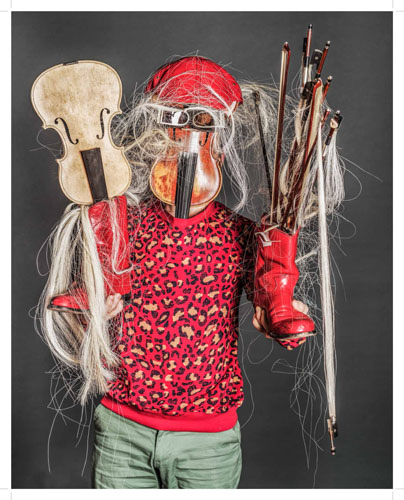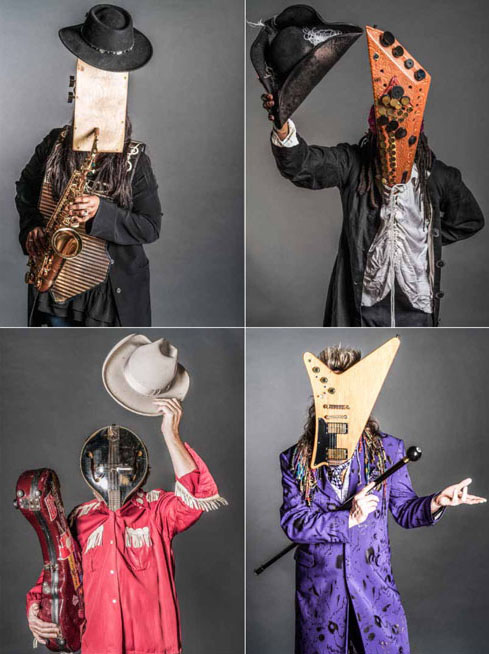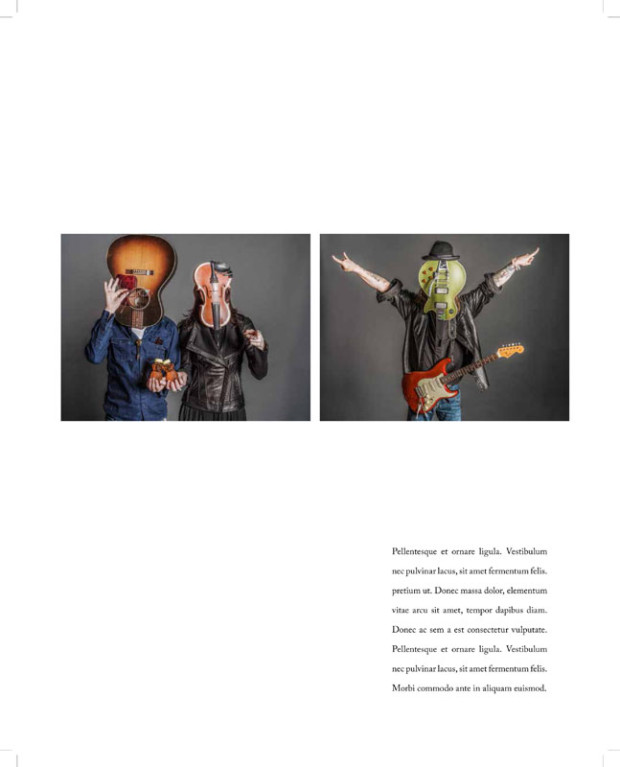 INSTRUMENTHEAD Specifications
Trim Size: 12 x 10
Pages: 256 pages (If we exceed our fundraising goal: 304 pages)
Text: 80 lb. matte white; 4-process color throughout
Endsheets: Endsheets to print 4-process color
Hardcover: Casebound cover 95 lb. gloss C1S white over 120 pt. board
Jacket: 4-inch flaps using 95 lb. gloss C1S white
Finishing: Laminated single-sided with 1.2 mil matte lamination; 4-process color; die­-scored and cut
Gatefolds: Two 2 x 4 page gatefold inserts (bound within full signatures) printing 4-process color throughout using 80 lb. matte white text stock
Shrinkwrap: All books will be shrinkwrapped unless they are signed by the author
Thanks so much for reading!
Pre-order The
Instrumenthead
Book Now!
Below are the names of everyone who has helped to bring this project to fruition by donating to the campaign. Thank you so much for all of your support
— Michael Weintrob
Daniel J Doyle
Karen E. Dugan
Adam Weinberg
Molly k peck
Phyllis Hurwitz
Lisa Ezra
Monia Lippi
boozerdowns
mauro paciotti
Dennis Teasley
Rebecca Sampson
Eli Nachamkin
orders
Matthew Whildin
jason
Matthew Epstein
Amanda Kurtz
Brian Jordan
Patricia Dunphy
musicphairy
mbaeza2
jsncyng
Stacey R Dinner
Simon John Russell
Nicholas DeTomaso
Robert DellaMorte
Brian Myers
Emra Islek
Barbara Kronick
jcalmad71
Robert Fyvolent
Jason saltzman
Jason Koerner
Alpha C Roussel
Grant alspaugh
Celeste Ambrose
andreas pastor
Bruce Bouton
jason guadagnino
witchdoctor_03
Nathan Powers
Michael Blumberg
Ramon Juma
Stewart Carroll
Peter R Sears
Sharrif Simmons
Juliet Kressner
TINA W FRANTZ
Reis Baron
anndroberts
John W MacLeod
jon bendis
sethja
Jay Rogovin
Marc Allan
david lebatard
Christopher M Rogers
Thomas Thayer
Cary Romanoff
Jason D Haberstroh
Jill Fields
andyquaid
M Beth Cooper
Dave Cirilli
Cynthia Simien
James R Nutt
wurleyman
Alex Kluft
Mark Brown
Aaron J Laiserin
Robert Seidenberg
Erin Scholze
Christopher Blanchard
jcraemer
Elizabeth H Bowling
John Nichols
Steve Simon
michael hanley
wdavid
Preston C Manning
Jill Wier
Jill Wier
Stuart H McCluer
bryan walters
claydunbar
dswartz
3.71727E+14
Karen T Oren
Randy L Bird
elktec
Nicholas Fitanides
Vicki miller
matthew goodrich
Jason Zink
willliam martin
James Vann Worthen
Marvin Shelsky
Katie B Feinstein
Joseph White
Jeffrey Coriell
Christopher A Cowley
David W Pomeroy
Timothy Benko
Zack Littlefield
Danny Clinch
Stacey Morigeau
Cara Yeates
Anne Seuffert
scott peek
Richard Rosenthal
Mary Friberg Wilson
John E Godard
Summer Lazarou
Teddy Kumpel
Eric Abramson
michael pasternak
Marc Weinbach
julelev
Jamie Janover
Paul Schomer
marc schoenbaum
srosenberg06
srosenberg06
karen boone
Leigh E Milligan
David Gilbert
Chad Stanley
Timothy Kent
Christie Lynam
Christie Lynam
Michael Lerner
r.desmarais
Ayler Young
Kenton Lee
Marc A Ross
Bart Stephens
JaneFurbush
MARKUS TRAENKLE
eric.lefcowitz
Ferenc Nemeth
bacchus
Terry O'Brien
Christopher T Sherman
Manoj N Williams
Julie kurtzman
Jon Phillips
On Davis
Dana Dizon
Matt Olsen
Richard F Henneberry
Peter Shapiro
Justin J Bolognino
Eleonora A Ciari
martine dimartino
Adam Ruback
w robert johnson
joseph t mayo
nicole linton
mark montgomery
Amy Bell
kevin.sokol
Timothy P OBrien Jr
tomspeed
Rob Steinberg
scott r kowalchyk
Elizabeth Anne Cauthen
Doug R Greene
Cheryl E Liguori
Mandy Irons
Clarkson C. Logan
ross g harmon
Charlene Rogulewski
Jesse Mann
Dana Weissman-Scali
Michelle Esrick
Alysia Constine
Charles Goodrich
Caleb Chapman
amanda beyer
Jennifer Gallico
Melissa Bellanca
Andrew Lawton
MIchael Gellman
Miranda Huba
Robert J Burkhalter
Lisa Swarbrick
Dodie K. Sokol
gejaffe
musicchasergerri
Andrew Turner
Ryan g dart
Tara Macomber
Joyce Dollinger
Stacy Jackson
curryv
Richard Prafder
Debra Lytle
Paige Clem
Ann J Kenworthy
Adam Weinberg
gdgildner
david cutter
lzetzman
Danielle E Remieres
Jennifer Burg
Erin Pierce
Brian Schwartz
Ryan Yaccarino
JOSHUA MALKIN
Rebecca Fletcher
Elizabeth H Bowling
Chris Severe
Lij Shaw
Christopher jones
Tim Roach
Jeff Wood
Suzanne Ross
Frank R Shippen
Janet Kenworthy
Tyson A Schuetze
Ralph Gillis
Clayton Halsey
catherinecmayo
Tommy Danscuk
Gary Niederauer
Michael Wertheimer
Emily Esposito
Shawn Peters
Ryan A Martin
Amy Bjork
Jason C Curtis
Nghi Nguyen
Jeremy Leitman
Soren McCarty
Amy Bjork
Jennifer Wexler
ben rubin
David Golek
Katherine Weitzman
Jonathan Schwartz
Marc Millman
Diana VanGorden
Todd May
Jared Krim
Stephen J Bronson
bleibtreu
ghl1130
marc
froth917
Susan K Ryder
michele pulver
Katherine H Griffin
Marcus Heuchan
Candy Meyerson
craig klein
Jane Copelan
MATTHEW R GOLITZ
kevin shapiro
Wayne G. Price
Mark D Rowan
Courtney Pierce
Jordan Smith
Anna Donald
Alexis Fischoff
Tara Iuso
Lee Seelig
T. DE HEER
Amanda Ackerman
North warren
Paul D Morrissey
Melinda Lio
Thomas e noll
Shirzad Khusrokhan
Sean McNamara
hellomimi
jhelisa anderson
tondrae
Michael r Maier
Keith Price Burke
P Olivo
gregg kaplan
josette
jay blakesberg
Shannon Splaquet
Jennifer Fain
Joshua Baron
Andrea M Pelletier
Aaron Benor
Joel Libowsky
Jenna Lebowitz
Jonathan Bahr
Gregory Aiello
Jonathan M Brill
Elizabeth Smith
Elizabeth F McMinn
Chauncey Yearwood
Sara J Kronick
christopher cassidy
Bluescentric, LLC
Jennifer L Gridley
Aron magner
bradleyjohnstott
Breck Alan
Joseph Carcusa
David baram
nanbowden
IRA R SWEETWINE
joachim.steinacher
Jennifer Bagert
C Taylor Crothers
James Waitzman
Gregory Davis
Brad Hodge
Kathleen M Giampetruzzi
Zach Gill
James Ko
andyroto
Jeffrey Babko
John F Caban
sarah hubert
Kyoko Kitamura
margybauman
Gary Waldman
matthew calhoun
Jessica K Girdley
Michael
Amy B Bienstock
Jeffrey Rubenstein
Bryan Aiello
Amy whiteford
Allison Bluestein
Margaret senn
venneri
gap412
Justin A Bette
Preston Wayne Parris
andrew courtenay craig
mary schoettle
Baron A Wolman
Kathrine S Gannon
Lisa Siciliano
Brooke Scott
Bevelle Worthen
erik deutsch
Carianne Brinkman
edwin c atkins
Charles Strickland
Tara Stein
Karen B. Eberson
Jason M Kirschberg
Ashley Thoss
Teresa Armistead
Michael E Allegretto
Holly R Mazer
Christopher wilson
Marci K Lehman
Barry Brecheisen
jsncyng
anthony a brezac
Lisa Keatts
Susan Clements
jonathanlee.jst
Clark l whitaker
Dean Rubenstein
Amy H Kurowski
honnolddaniel
Sarah Mermer
Anthony M. Leone
margo.valiante
Alto Reed
Michelle Orr
Kirk Edwards
Stephen A Koshland
Scott Ireland
Brian Miller
Gregory Reish
Arlene W. Fisher
John Condon
Thomas W Hutchinson
J B Taishoff
jeffrey
Brian Rifkin
Roger B. McNamee
Abby Radbill
Aine Duffy
Harry D Precheur
Matthew H Merewitz
Dana Lyn
jonathan
Ed Pettersen
Ronda Thomas Farrell
Donald Eldridge
Jane N. Bluestein
Matthew B. Schwartz
Regan Teti
Michael Segal
Katharine Trindl
roadtripcc
R Bryant McCulley
Jason McDaniel
Brandy Durbin
Jeffrey S Tenner
Brenda Ladd Photo
Mark Rechler
Brian Hayle
Howard Weintrob
Laura Zotian
Christine Ohlman
Laura Baker
gordon hirsch
Robert Minkin
Wendy Weintrob
reachjimmy
Jane G Copelan
Chelsea Levy
doria topazio
Jonah Smith
trperrucci
adam
Chad smith
Jeremy Jones
Evan R Cobb
Marilyn K Slater
Cathy P Collins
Ian Kramar
Christopher Joseph
Frederick c gallagher
Maxwell A Kittredge
Heidi Lynn Ziegler
Kevin Yatarola
Scott P Blake
Gregory M. Boone
adam mccullough
Gayle W. Leitman
wonwayout
marlowe fawcett
Amy Y Kisch
Gregorio Uribe
Jane G Copelan
John R Nichols
sslevingston
Chad Anderson
Jessica Pfohl
diane moudy
marnie m levinson
Harold H Goings
Bruce M Fram
Joy Grossman
Alissa Jacobs
Robert W Brown
Timothy A Dwenger
Jeff Grady
John E Sanders
Gabrielle Bravo
Paul A Bender
Matthew Glassmeyer
Kirk D. West
Matthew Butler
Kimball Packard
Lawrence L Fox
Nicole Olsen
Jonathan P Buffington
Jordan Burger
Joel Gershon
Anne VanDeree
Richard G Ivester
Daniel Porras
Pelham Straughn