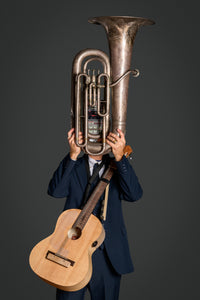 Co-founded and recorded three albums with The Jongleurs, while also doing session work and performing bluegrass and fiddle tunes on saxophone with Station Inn mainstays The Sidemen. Also formed groups such as Twelve 20 Six, DDYGG, and The Quiet Bastard among others.
Inventor of an assortment of instruments including the shuitar (an acoustic drum machine-like instrument made from an acoustic guitar body), the buzzophone (tenor saxophone played with a custom trumpet-like buzzing mouthpiece), and an amplified contra-alto clarinet.
Jointly wrote and recorded rock albums: 24,200 Miles with Jano Rix as Rix Glassmeyer and The Dirt Is Near with Matty Zarth as Church of Cleanliness.