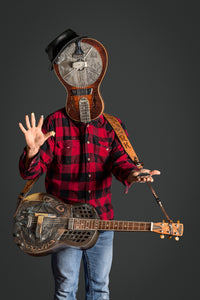 Producer and country artist Randy Kohrs has backed up artists such as Dolly Parton, Patty Loveless on a taping of PBS' Austin City Limits, as well as other TV appearances by Tom T. Hall, Holly Dunn, and Hal Ketchum on acoustic and electric guitar, acoustic and electric Dobro, lap and pedal steel, mandolin, upright bass and banjo.
Nominated two times for Dobro Player of the Year by the International Bluegrass Music Association after session work with Hank Thompson, Walter Hyatt, and Hank Williams III
Kohrs released his solo debut recording, A Crack in My Armour, (October, 2001; Junction)
In 2008 he made his solo artist debut at the Grand Ole Opry and won a Grammy® Award for his contribution to Jim Lauderdale's album The Bluegrass Diaries.
Released the compilation Hornography (2009) on his Left of Center label. The album was dedicated to guitar maker Tim Scheerhorn featuring Kohrs, Jimmy Ross, Rob Ickes, and others, all playing resonator guitars.